ReVanced
Manager
Vanced Manager the official version will be no longer available with their features? Due to google DMCA policy. And you'll might not able to use those features. But you don't need to worry because the latest version ReVanced Manager comes to keep alive millions of users loved Vanced Legacy.
Not at all, the new ReVanced Manager have more features than Vanved Manager app, where you'll have more features like adding or edit apps like Spotify, Twitter, YouTube, YouTube Music, TikTok, Twitch, and app like Reddit. ReVanced Manager app will allow you to customize those apps as you like to do.As you know, the Digital Millennium Copyright Act (DMCA) applies to Google's app platform, just as it does to other online platforms. Google Play Store, as the app platform of Google, is subject to the provisions of the DMCA, and it is required to take action when it receives a valid takedown notice under the law. And as you know, our most loved Vanced app was provided YouTube app with features like premium and that's why Vanced app is opposing to Google policy. And behind reason why Vanced was shutdown. Well, so let's take a look at our new generation ReVanced Manager app or let know will it be the best alternative to our Vanced App?
Note: An alpha version of software is an early stage of development, where the software is still being tested and refined. Before you download this ReVanced Manager, we would like to tell you it's an alpha version.
What Does Revanced Manager Do?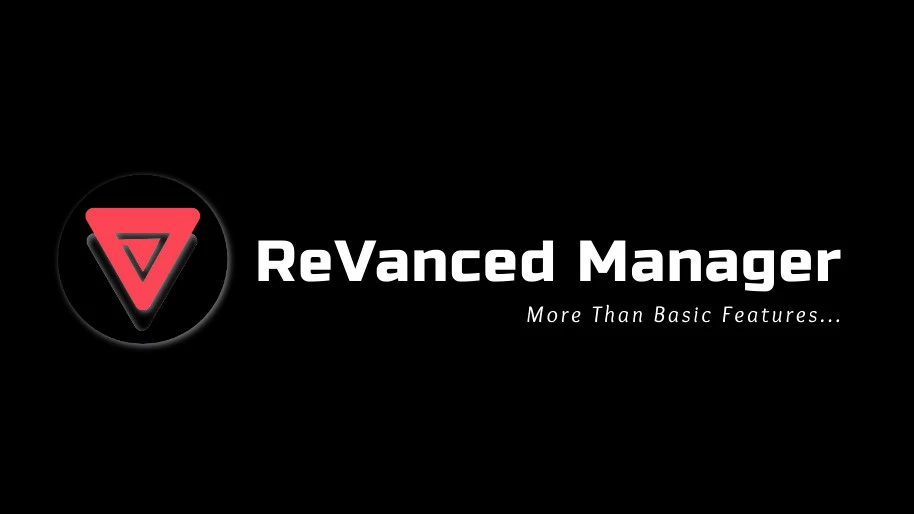 In short, ReVanced Manager is not like our old Vanved Manger app, it's an app more than download Vanced App. It's actually work like a patcher which you can use to edit or customized an app like Spotify, Twitter, YouTube, YouTube Music, TikTok, Twitch, and more. Even you can use this app as a patcher tool because it can patcher multiple apps even if it's original version. There are several tools and software programs available that can help repair broken apps, but you can fix your broken app using this ReVanced Manager app.
Additional Information
| | |
| --- | --- |
| App Name | ReVanced Manager |
| Developer | Team ReVanced |
| Size | 42 MB |
| Version | v1.17.1 |
| Updated on | Dec 05, 2023 |
Install the new revolution of ReVanced Manager instead of old Vanced App.
---
Exciting Features ReVanced Manager
As I have said you'll get more features than Vanced manager on this new ReVanced Manager app which you'll love to use. For more features details, please read below.
Key Features
Dark Mode: Welcome to dark mode, swipe to on.
API URL: You can configure your custom url.
Experimental universal patches support: Display all application to use with universal patches, loading list of apps may be slower.
Experimental patches support: Enable usage of unsupported patches in any app version.
Delete keystore: You can delete the keystore used to sing the files.
Delete temporary files: Delete unused temporary files as you wish.
Delete logs: Delete collected manager logs.
Export patches selection: Export patches selection to a JSON file.
Import patches selection: Import patches selection to a JSON file.
Reset patches: Reset the stored patches selection.
Patch Multiple Applications
ReVanced Manager allow you to patch multiple apps on your device, so you can use this app as your patch tool for your Android. It's important to note that patching original apps from the official source, such as the app store, is generally safe and recommended. On the other hand, downloading patches or updates from unofficial sources, such as third-party websites can be harmful for your device and security vulnerabilities. You can patch your own and use your any app with adding features as you like.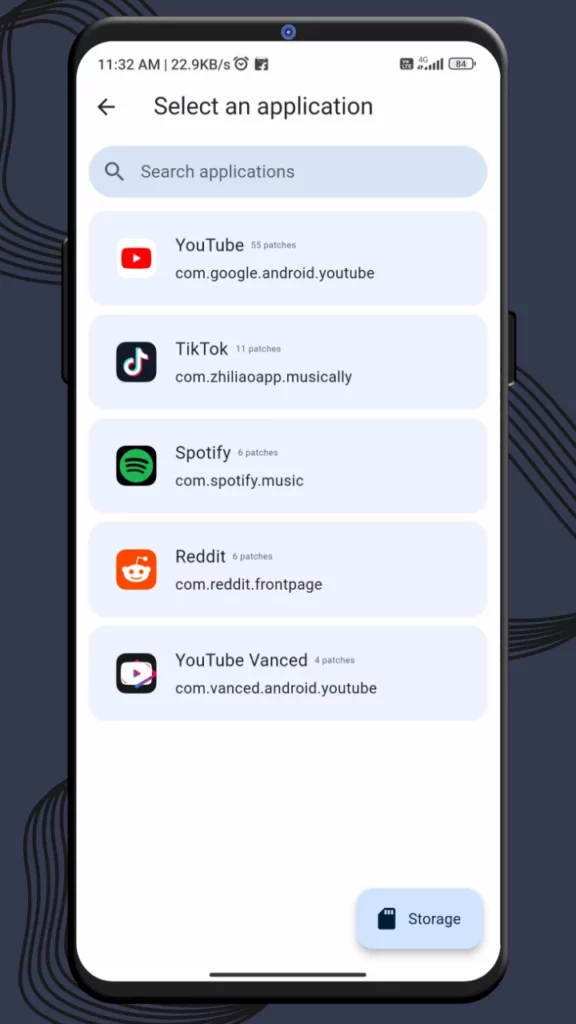 Changed into Premium
As you know, every premium and regular app we are identifying with their logo branding. As like YouTube and YouTube Music app let know their users by showing the logo. And we can know which version actually using the users, but if you wish you change the logo branding and become a premium user then you can use this ReVanced Manager app which will allow you to change the logo branding on these social applications. Isn't it cool? Yes, that's the way ReVanced Manager will make your apps look cool.
Ads Free Interface
Meanwhile, you'll get those app features totally free because this app don't have any ads. You can download the app for free and use lifetime without any cost. There are no annoying ads on your display which don't like anyone to like you. But always make sure you have to download the APK file from genuine and trusted source like ReVancedAPK.Org to avoid malware and annoying ads.
Patch Original Apps
Patching original apps refers to the process of updating or modifying an original app to fix bugs, security vulnerabilities, add new features, or improve its performance. This is typically done by downloading a patch or update from the app developer or the app store, and then installing it on the device. Some patcher apps can automate this process, making it easier and more efficient to keep original apps up to date. You can add your wish features on your YouTube or others app as well, as we have said you can patch others original apps too.
Repair All Broken Features
Using ReVanced Manager app you can repair all broken features of your YouTube and TikTok. You just need to send a bug report on feedback section and the developers will resolve your issue. But before your report, we would like to suggest some steps that may can fix your issue.
Restart the app: Sometimes, simply restarting the app can resolve issues with broken features. To do this, close the app and reopen it.
Update the app: Make sure you have the latest version of the app installed. Updates often include bug fixes and performance improvements.
Clear the app's cache and data: Clearing the app's cache and data can help resolve issues with broken features. This is usually done in the app's settings or in the device's settings under "Apps" or "Application Manager."
Reinstall the app: If the above steps don't work, you can try uninstalling the app and reinstalling it from the app store. This can help resolve any issues with the app's files or configuration.
Easily Activate Download Feature
There are some social applications such as Twitter, TikTok, allow users to download their media. And if you also have need to save a video from such platform like TikTok then you can use the active download feature. Which will help you download instead which you can enjoy in offline. Even you can use this features as same on YouTube and save video on your local file and share with your friends and family as well. So you don't need to use an extra downloading tool to save a video from TikTok app. In this inbuilt feature will save your time and date both, sure thing.
Material UI design With Dark Mode
Wanna use this ReVanced Manager app with dark mode? Yes it's completely fine, because in this app has inbuilt metarial UI with dark mode which you can turn on with a one swap. Dark mode is a color scheme in which the background of an interface is dark and the text is light. This mode is designed to reduce the amount of blue light emitted by the device, which is thought to disrupt sleep patterns, and to reduce the strain on the eyes when using the device in low-light conditions. And that's why dark mode is becoming increasingly popular, and many popular applications, operating systems, hope you'll love it too.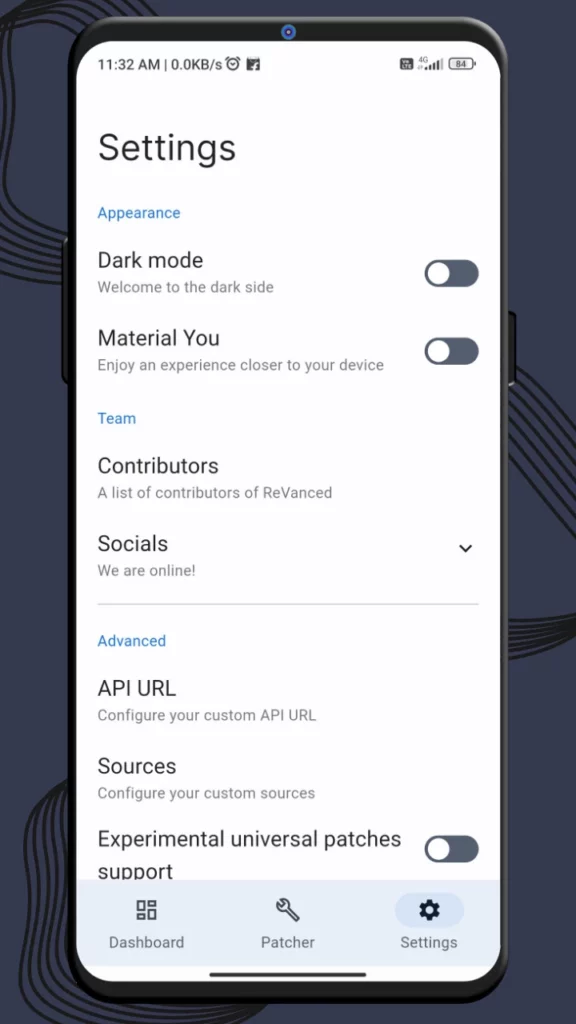 Patcher
A patcher app is a software tool used to apply patches or updates to other software programs. Patches are small software updates that fix bugs, security vulnerabilities, and add new features to an existing software program. Patcher apps are used to automate the process of applying patches and ensure that the updates are applied correctly and efficiently. Overall, this ReVanced Manager app will useful patcher to you which you can use it like a developer.
Live Updates
Using this ReVanced app, you can check what the latest version ReVanced YouTube and Music apps and one click to update. So you can keep using the latest version ReVanced YouTube and YouTube Music. An outdated app is a software program that is no longer supported by the developer, or that has not been updated to work with the latest version of the operating system or device firmware. Outdated apps can pose a security risk, as they may contain vulnerabilities that have been fixed in more recent versions of the software. So keep use the latest version and from official version and save your time as well.
Trusted By ReVanced.org
ReVanved Manager app is an open source app which you can download from different source. And here is come some corrupt developers who force you to allow some unwanted permission from your device and which is totally risky thing for your privacy and safety. Not at all, they also add many third-party Ads which very annoying. So, avoiding all those annoying things, you have to download the APK file from genuine source like ReVancedAPK.Org because we provide you the APK file which is love and tested by million of users. Even you can check our open source ReVanced project and contributors details from GitHub.
How To Download The ReVanced Manager
Note: Download the ReVanced APK from only trusted source like us or GitHub to avoid fake app.
Step1: To download the ReVanced Manager just click o the download button which you can find in the top of this post.
Step2: Then you have visited the actual downloading page, Now here you have to select the suitable version for you.
Step 3: Now here are the downloading process start, So let it complete till 100%.
How To Install Revanced Manager APK
Installing the ReVanced Manager is really easy and simple. Although installing the rooted version is quite difficult. But many people have no idea about how to install the non-rooted version of ReVanced Manager, Now if you were one of them then follow some few steps which are shared below and easily install the ReVanced Manager.
Note That: Using the Revanced manger you download and install both Revanved APK and Vanced APK.
Step1: Go to the device file manager and open the ReVanced Manager and click install.
Step2: Then go to the device setting find unknown resources and allow that.
Step3: Back to the installation process and let it continue till it's going to install on the device.
Step4: Now here you are able to run the ReVanced Manager to your device.
For Rooted Device
In this process, an additional step of granting root access to the manager app must be completed after completing all the steps outlined in the procedure for non-rooted devices.
Well, for rooted device you don't need to install MircoG App on your device you can avoid it.
Download Revanced Manager for Android
If you don't have required patch features, then you can skip to download and installation this ReVanced App. To enjoy your ReVanced YouTube you just need to download the latest version ReVanced APK and install the app as usual, and then you can enjoy your ReVanced YouTube and Music without using ReVanced Manager app. But keep in mind you must have to install ReVanced MicroG app to avoiding error and app crushing. Well, you can read in this article we have share with you all about ReVanced Manager app with their full features and using guide. Still, if you need any guide and have thought about this app then feel free to contact with us or comment below.
Related FAQ's
Q1: How to use ReVanced Manager?
To use the latest version ReVanced Manager app, you don't need to have rocket since knowledge. You just have to some general patches knowledge, then you can customize your app as you wish. In short, there will be very basic option and features which you can use as you like to make look and adding features (Installation of this app is not necessary to use ReVancved YouTube or Music app).
Q2: Which ReVanced Manager version is required to YouTube?
Q3: What additional features comes with the ReVanced Manager?
ReVanced Manager is a patches tool app which has more features than Vanced manager. Even it's allow users to customize different app adding features option. Also, in this app comes with repair broken app and fully ads free UI.
Q4: How do I use ReVanced manager on YouTube?
If you want to use ReVanced Manager app to adding features then you can follow steps> Open the ReVanced Manager app>> Click on the app info, and from where you can patch your app and customized as you like.
Q5: Using the ReVanced Manager APK is safe?
Yes, using ReVanced Manager official version will be safe for you, but if you download from unknown source then you have to use at your own risk.
Note: You might see the play protect warning towards the application as it was modified. Just ignore it and tap on install anyway.